Research-Based Curriculum for Mentors
Mentor Collective offers extensive training and resources to ensure each mentorship is successful. Our on-demand training for mentors is designed to build a solid foundation for meaningful, relevant connections with their mentees. This flexible, self-paced training helps mentors understand the expectations for participation in the program, how mentorship is different from other forms of student support, and when to direct mentees to campus resources for further assistance.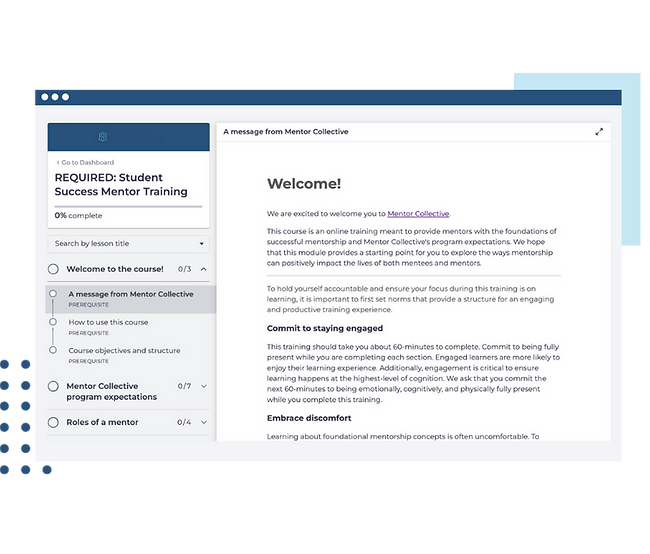 Our team of researchers, DE&I leaders, published academics, and in-house curriculum designers regularly meet to discuss latest research on mentorship and higher education. Through this collaboration, our team is able to offer course topics including enrollment, student success, career readiness, DE&I, and more.
Training Flexibility
Self-paced, on-demand training accommodates busy schedules and promotes ownership of the learning experience.
Mentor Accountability
Embedded checks for understanding, final assessment, and certification ensure mentors fulfill the course learning objectives and receive resume-building skills.
55,000+ Mentors Trained & Counting
With intentional instructional design and resources to support ongoing discussions, Mentor Collective helps mentors develop and practice the skills proven to positively impact formal mentoring relationships.