How can data improve the reach and efficacy of student success programs? This question was the focus of our recent webinar with student success leaders at Florida Atlantic University – Driving Retention Through Authentic Peer Connections. Our partners at FAU have had remarkable success in the last year reaching less-engaged students using Mentor Collective's peer-powered platform. Their goals, strategies, results, and feedback were the topic of this webinar | watch it on-demand or read highlights below!
Let's review some highlights from the webinar.
Our Guests from FAU
Key takeaways
1400 students successfully matched
One of the reasons we wanted to delve into Florida Atlantic's implementation of our data-driven platform is the amazing success they've had in engaging students, particularly folks who might not normally reach out for support. In their first year running this program, FAU successfully matched 1400 first-year and transfer students with mentors. Based on existing data, students who left FAU after their first year generally weren't leaving due to academic difficulties. They were leaving because they didn't feel a sense of connection or belonging. This, and the varied outcomes of students, influenced their institutional approach to student outreach and support.

The Gender Achievement Gap
The team at FAU took a close look at their retention data before setting priorities and allocating resources for the mentorship program. They found that their retention and graduation rates were relatively consistent between groups; most students, including those from different racial and ethnic groups, had similar retention rates. The main disparities were found between men and women, with women more likely to remain enrolled than their male peers. These discoveries led FAU to explore how they could improve retention rates for men of color – and men broadly – among their student body.

Data Provided from Florida Atlantic University
Commuter Students and the Pandemic
FAU also found that commuter student retention had shifted following the start of the pandemic. In the last several years, FAU has seen commuter student retention rates fall below retention rates for on-campus students; when historically commuters had consistently retained at higher rates. Commuter students must contend with housing shortages (both on- and off-campus) as well as a rising cost of living in the area.

Data Provided from Florida Atlantic University
An Epidemic of Loneliness
The U.S. Surgeon General recently released an advisory notice on the epidemic of loneliness. Social isolation was on the rise before the COVID-19 pandemic, but the pandemic dramatically exacerbated these existing trends, especially among young people. Loneliness can contribute to poor physical and mental health, potentially causing ill health effects up to the equivalent of smoking 15 cigarettes a day.
Colleges and universities are uniquely positioned to push back against this trend and help foster social connection among students, whether on- or off-campus, traditional or non-traditional. In fact, the Surgeon General's advisory directly calls out mentorship as a strategy for fighting loneliness in our communities.
Data-driven recruiting for mentors and mentees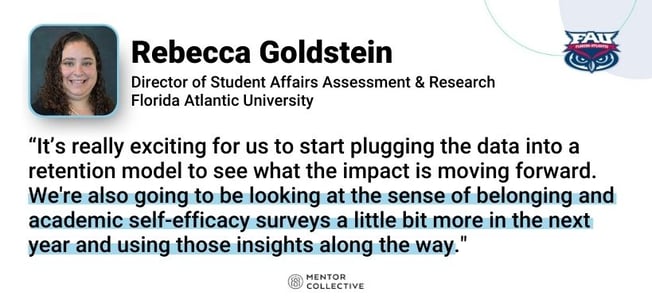 With their primary target populations in mind, and the Mentor Collective platform infrastructure supporting their efforts, FAU was ready to train mentors and recruit mentees. Using a tiered system, Director of New Student Transitions and Family Engagement Jordan DiPentima, M. Ed. first reached out to male FTIC and transfer students and commuter students before opening the program up to the full incoming cohort. This approach gave FAU their best chance at engaging the populations most in need of navigational support. DiPentima also worked to personalize outreach to specific groups.
This strategy, though intensive, proved effective. Through the Mentor Collective Dashboard FAU could track the subpopulations of the incoming student cohort to see which students enrolled and then took the Mentor Collective matching survey to receive a peer mentor.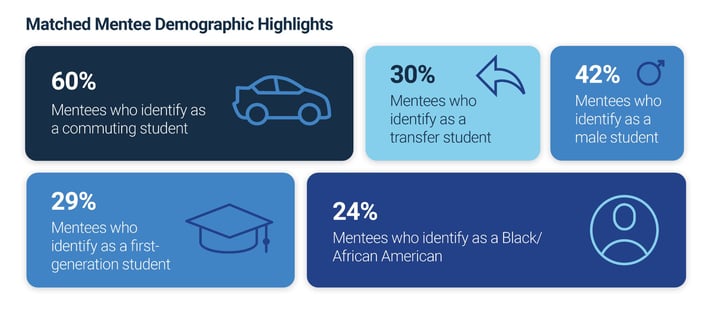 Actionable insights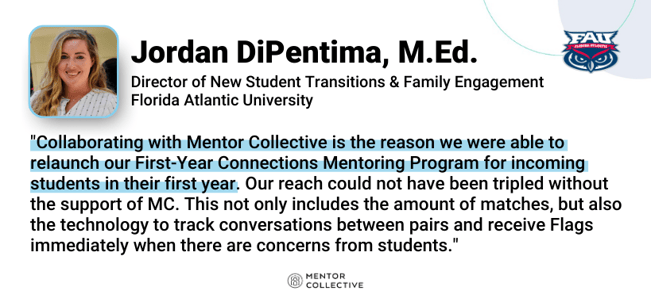 Real-time data and divisional education helped FAU set up a well-functioning peer mentorship program that made the most of student and mentor insights. During the virtual event, FAU's Director of Student Affairs Research and Assessment Rebecca Goldstein and Director of New Student Transitions Jordan DiPentima, shared how they approached multi-divisional collaboration with the Dean of Students, Financial Aid, and Academic Affairs to ensure each had a point of contact familiar with the Mentor Collective Dashboard and how to respond to Flags; alerts mentors log related to challenges their mentees face.
This allowed FAU to reach individual students with resources. FAU mentors and mentees exchanged almost 7,000 conversations about a variety of issues like career questions, academic struggles, and housing or food insecurity. The cross-institution use of Flags in Mentor Collective's system ensured that students were connected with resources quickly and efficiently when problems came up.

In hindsight, FAU found that students who participated in their Mentor Collective program showed an average of 2% higher persistence between fall and spring semester when compared to non-participants. This was true across student sub-populations...from transfer students to commuter students to men. The success was so great that the program has expanded beyond student affairs and is now supported by the CFO and the academic affairs and financial aid divisions; all of which have seen the substantial return on investment.
Here more from FAU's VP of Student Affairs & Enrollment Management Dr. Larry Faerman

With accurate, real-time data about student experiences, the opportunities are endless. FAU took Mentor Collective's data, cross-referenced their own, and went to work. Students were connecting with their peers, campus and the resources to help them thrive as themselves in college.
To learn more about how FAU used Mentor Collective's peer-powered platform to engage 'under the radar' students, download the case study or watch the full recording of the webinar here.
To receive a consultation about how Mentor Collective could help your institution, connect with us!