After making and evaluating more than 100,000 mentorship matches, here's what we've learned: When mentors and mentees have various commonalities, they talk more, enjoy their mentorship experience more, and have a higher likelihood of connecting on a meaningful level.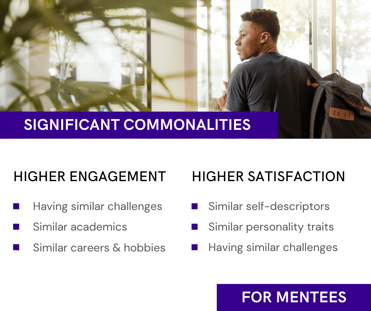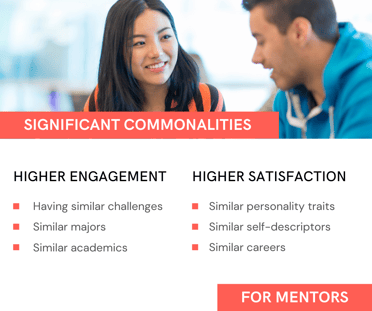 Our data scientists and engineers love efficiency almost as much as they love knowing the algorithms they put in place lead to impactful college experiences. So when they discovered statistically significant factors affecting student engagement and satisfaction, they rolled up their sleeves and sought to make our matching programming better than ever.
The latest Mentor Collective program update now includes a refined matching practice enhanced by the same Nobel Prize-winning algorithm used by the National Resident Matching Program (NRMP) to appropriately allocate medical school students to hospitals. Known as the Gale-Shapley Algorithm, the technology listens to students' preferences first and foremost with a series of weighted survey characteristics so that better matches are produced on a grander scale.
What does this mean for your mentorship program?
We can help you scale your existing programs and launch large programs that serve most or all of your students
While maintaining rigorous standards for match quality, we can now match thousands of students in a matter of minutes; saving your team valuable time and making sure students get access to mentors quickly.
Visibility into each mentorship's "match score"
Our algorithm weights different matching survey characteristics more or less heavily based on data we've analyzed from tens of thousands of mentorships to produce a "match score." While not every match can be 100%, our new system is ready-set to gather data from thousands of mentorships, allowing the MC team to adjust the algorithm as we continue to learn what makes matches work for institutions like yours.
Provide the best mentor for every mentee – even with tens of thousands of participants
Since the new system can compare every possible match from groups as large as tens of thousands of students and mentors, we can ensure that every student gets the best possible match for them. Student preference is also taken into account. If a participating mentee selects a characteristic of utmost importance – such as a common language or major – that will be weighted most heavily so that mentors are rated 10x more highly if they share that characteristic.
Whether a mentee is the 1st or 100th person to enroll, they'll receive their best match
Previously, if a mentee were the 100th to sign up, they would be 100th in line for a matcher to scroll through and find them a mentor. By that point, it's possible the best mentor would have already been matched to capacity (and with mentees with fewer shared interests/experiences). Now, for any given group we match at the same time, the order in which you sign up does not matter.
At Mentor Collective, we're on a mission to make life-changing mentorships a feature of every student's college experience. Every update we make to our platform and the feedback we get from our partners bring us closer to realizing that goal.
Learn more about our newest update to the matching algorithm and how it can enhance your current campus programming by speaking with one of our partner success managers.
Stay up to date on Mentor Collective's research, events, and updates by subscribing to our newsletter!