On May 28, 2020, Mentor Collective was pleased to host a webinar with Dr. Farrah-Marie Gomes, Vice Chancellor for Student Affairs, to discuss why the University of Hawai'i at Hilo chose to invest in holistic student support by offering large-scale peer mentorship to all incoming first-year students, leading to increased year-over-year retention rates by 16% and increased GPA scores for mentored students over a two-year period.
UH Hilo and MC: Background
The University of Hawai'i at Hilo (UH Hilo) is a public university in Hilo, Hawai'i, one of ten general campuses of the University of Hawai'i system and struggles with first-year retention, having a six-year graduation rate of 41%.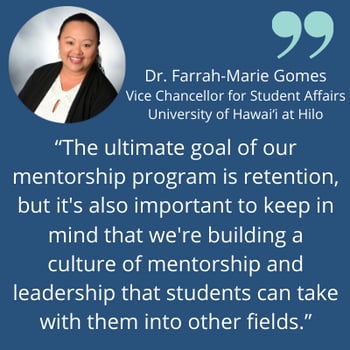 To tackle this challenge Dr. Gomes noted, "research has shown time and time again that the more connected students are to the institution, the more likely they are to succeed." Leaders at UH Hilo partnered with Mentor Collective with the goal of increasing first-year students' connection to UH Hilo through peer mentorship. With that goal in mind, MC matched over 500 freshmen students with a trained peer mentor to support their transition to school and help students feel better supported and more connected to the UH Hilo community.
Outcomes
In collaboration with UH Hilo's Office of Institutional Research, Mentor Collective was able to conduct an analysis of retention and GPA among first-time first-year students for the 2017-18
and 2018-19 academic years.
For students with a Mentor Collective mentor, the average retention rate was 74.14%, a nearly 16% increase year-over-year.

The average GPA of students with mentors increased nearly half a letter grade.

Dr. Gomes noted, "The ultimate goal of our mentorship program is retention, but it's also important to keep in mind that we're building a culture of mentorship and leadership that students can take with them into other fields."
Watch the entire webinar conversation or read more about the outcomes of mentorship at UH Hilo. To start a conversation about how to best engage and retain your students, contact Mentor Collective today.