We're pleased to announce the release of a major new dashboard feature: mentee goals. The development of this feature has been a cross-organizational effort among our designers, engineers, content authors, and education experts; it will enable program partners to increase participant engagement and provide even better outcomes in terms of meaningful mentor-mentee relationships.
At Mentor Collective we have long known that what makes our mentorship programs so effective is the use of research-backed strategies that we continue to improve upon through an iterative design process. One of the pillars of that iteration is the feedback we regularly solicit from our program participants.
Mentees have reported increased nervousness since the onset of the pandemic around starting conversations and staying on track; many have also expressed the need for more structured assistance.
Mentors have asked for a better method for directing their mentees toward goal-relevant resources.
The Goals feature will help address these needs while keeping our tools in line with the latest research into mentorship program effectiveness. Mentee-facing Goals will help them with additional structure and direction. And to assist mentors – and program partners – with providing the support that mentees need to reach those goals, the new feature release includes a set of tools that will make our program resources such as Discussion Guides much easier to access and use effectively.
MEANINGFUL GOALS, MEANINGFUL ENGAGEMENT
Mentees form a more meaningful relationship with their mentor when they are able to engage authentically about the issues that matter to them. This is part of why we invest so much time and energy into our matching process – to bring together mentors and mentees who share interests and life-experiences that will give them a common context on which to build their relationship.
Goals will further enrich mentees' experience by giving them more ownership over the course of their mentorship.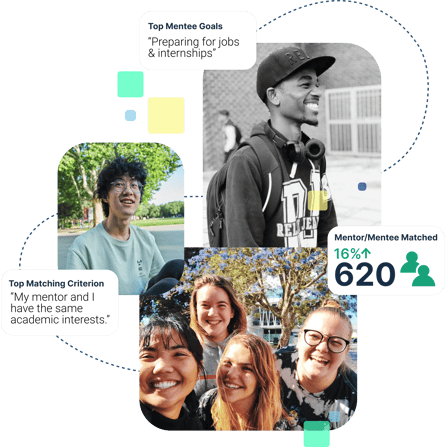 With the Goals feature, mentees will select a goal from a predefined list (e.g. "succeed in my classes" or "explore leadership opportunities"). This will then become a goal they work toward – with the support of their mentor and the institution – over the course of the program. By selecting their own goal, according to what matters to them, they will be able to engage more fully and personally in the program.
Designing a mentorship program–or any student success program–is always a balancing act between allowing a student the freedom to choose what is meaningful to them, versus providing enough structure and guidance to ensure success and avoid losing students who become lost or disinterested. Research has shown that both are important to achieve the best outcomes. Our new Goals capability captures the best of both worlds: it provides a framework and set of specific goals which will help guide and structure the mentees' meetings with their mentor as they engage together as a team to meet the goal.
CONNECTING GOALS TO RESOURCES
In addition to the goal selection feature for participants, the new release will allow Partners to see, filter, and search Mentor Collective's extensive library of electronic resources. This will serve two purposes: to allow simpler and more comprehensive access to those resources, and to permit linking resources directly to participant goals.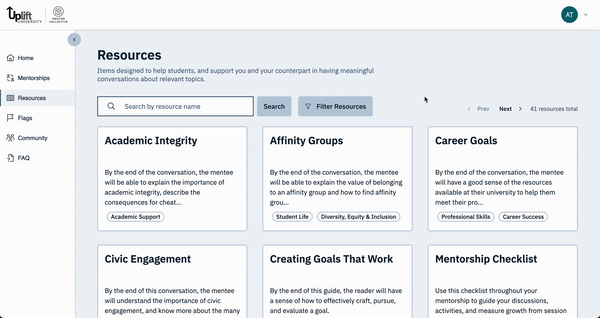 Mentor Collective has an extensive collection of resources designed to facilitate mentor-mentee communication and offer guidance on topics from study skills and time management, to finding leadership opportunities and much more. All of these resources have been connected to specific goals that participants may choose, so that program partners and participants will be able to easily access the relevant resources with ease.
This is an integral part of the Goals release because the mentee-selected goals will now tie directly to the appropriate resources. For example, if a mentee chooses "Get an internship" as a goal, they can quickly access relevant resources such as the "Effective Interviews" guide.
TAKING GOALS EVEN FURTHER
The potential for the Goals feature goes even further: as its use grows, program partners will be able to see mentee goals in aggregate - and to export and analyze this data. We also have projects underway to help make it easier for program partners to add institution-specific resources to direct participants toward the most relevant and helpful support services offered by their institution.
We know our program partners share our mission to continually improve mentorship experiences. By giving partners new insights and direct data about mentee goals, this new feature will allow our partners to meet these needs better, more efficiently, and more directly.
We want every new offering we provide to improve the experience of participants and partners alike as we all work together toward our shared goal: fostering meaningful mentorship experiences.
Learn more about this product update or see how our partner institutions are leveraging other product features to act on student insights.
Not a Mentor Collective partner?
Contact us to learn how we can help you uncover student barriers and insights throughout the year that further institutional strategy and create environments where students thrive.